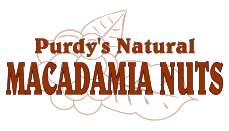 Mac Facts
The macadamia nut tree originated in the rain forests of Queensland, Australia. In 1882, William Purvis brought the first macadamia trees to Hawai'i. Now, 90% of the world's macadamias are grown in the Aloha State.



The fruit, the macadamia nut, is considered a delicacy around the world and demand for this delicious nut far exceeds supply.



It takes approximately seven years for the macadamia tree to bear fruit. The fruit must ripen on the trees and is generally gathered by hand from August through June.



Ours is a family farm. Every member participates in the care of the trees and gathering and preparing the nuts.



The fifty trees in our original orchard were planted in the 1920's and are today considered middle aged macadamias. Since 1980, we have been continually expanding the grove and now have several hundred younger trees adding to our annual production.



How To Crack Your Macs
Place macadamia nut on cement or a flat rock, preferably with a groove to hold the nut. Strike firmly with a hammer or another rock.



If smashing your thumb or finger is a concern, try wrapping the mac nut in an old sock or newspaper before applying the hammer or rock.



How To Toast Your Macs
Shell nuts, then rinse well with hot water. Sprinkle salt (optional) over nuts and allow to dry about 30 minutes. Spread nuts evenly in a baking pan. Put pan in oven at starting temperature of 350°F for 10-15 minutes ONLY, then reduce heat to 250°F. Let nuts brown, turning them occasionally. Nuts are toasted when they are a golden brown. Approximately 35-45 minutes at the reduced heat. Remove from the oven and ALLOW TO COOL.



Moloka'i Macadamia Nut Cookies
½ cup butter or margarine
½ cup shortening
½ teaspoon baking soda
2½ cups powdered (Confectioner's) sugar
2½ cups flour
¼ teaspoon salt
2 eggs
1 cup chopped macadamia nuts (roasted)



Combine dry ingredients, except the nuts. Mix butter, shortening and eggs until smooth. Combine with dry ingredients, mixing well. Add nuts. Drop heaping teaspoons of mix on ungreased cookie sheet, placing each portion 2 inches apart. Bake at 350°F for 10-12 minutes.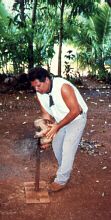 Tuddie demonstrates
coconut husking.


Mac nuts called a hefty health food


By Hugh Clark
Advertiser Big Island Bureau
May 31, 1997



Keauhou - Kona, Hawaii
Touting Hawaii's macadamia nuts as a health food may seem a bit of a stretch.



But that's been the focus of Rick Vidgin, general manager of Mac Farms of Hawaii, for the last seven years.



Vidgin now hopes to trumpet medical evidence which suggests that nuts, including macadamias, are good for you - in reducing cholesterol and helping to avoid obesity.



At an annual conference of nut processors and farmers this week, Dr. Gary Fraser, director of the Center for Public Health at Loma Linda University, noted that even if macadamia nuts carry a lot of fat, up to 90 percent of the fat is mono unsaturated - or good - fat.



His institution considers nuts not only rich in fiber, vitamins and minerals, Mono unsaturated fats reduce LDL cholesterol which clogs arteries. Among nuts, macadamias carry the highest level of mono unsaturated fat at 18 parts per ounce compared with 17 parts in pecans and hazelnuts.



Numerous studies have concluded that nuts eaten in moderation are healthful.



And they are filling, says Dr. Sachiko St. Jeor, who heads the nutrition department at University of Nevada - Reno's Medical School.



Through a Reno Diet Heart Study St. Jeor said she has found that all nuts - macadamia nuts included - produce positive results.



Fraser's study of 26,000 patients also has found that when nuts are eaten five times a week, there is "only half the rate of heart attack or coronary death as those who rarely ate them."






Site creation by